1. NOVELTY CREDITS. You just know it's going to be fabulous when something this computertastic starts you off.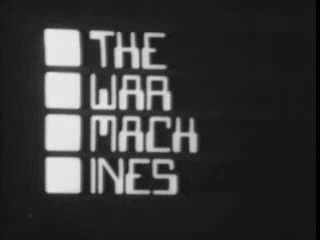 2. EEEVIL COMPUTERS. WOTAN declares that 'Doctor Who Is Required.' We all stick our fingers in our ears and pretend we didn't notice.
3. EEEVIL
WASHING
WAR MACHINES. A screencap cannot capture the terror invoked by one of these vicious bastards, trundling towards you like a milk float of death. (Seriously, this bit has some back projection to die for.) There are 12 of these beasts, you know! Although we only see two of them. Or possibly one. Get behind that sofa!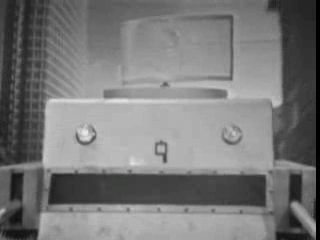 8. 1960S EMPTY LONDON. Bloody hell, where
is
everything?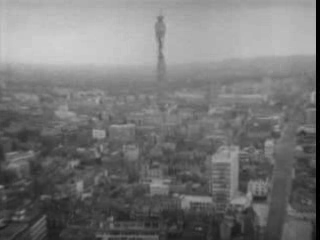 4. THIS BLOKE. Do not mess with him, for he is hardcore.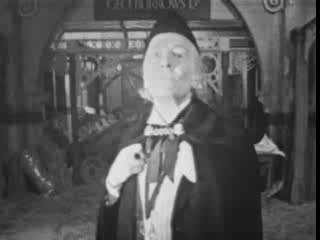 'He looks such a kind old bloke too, doesn't he?' grumbles Ben, when told there are more important things to do than rescue Polly. 'He's got other things to think about, mate,' says a friendly army bloke. Like performing Jimmy Savile impressions at a big box of monster! Jangle Jangle, Now Then Now Then...
5. DEPARTING DODO. Not because I am mean (although for the youngest actress ever to play a female companion, Jackie Lane does an amazing impersonation of a 40-year-old...er...that was quite mean, possibly), but because her totally random departure results in this face: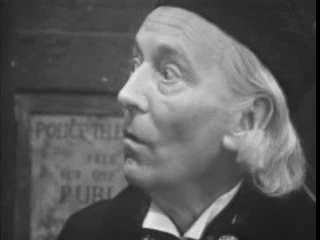 Poor Emo Doctor. Look, they are the original Seven 'n' Ace!
(Let's overlook the fact that she's possessed at that point and he hasn't actually noticed, ok?)
6. 'DIG YOUR FAB GEAR!' Technical pull, Doctor? Nice one.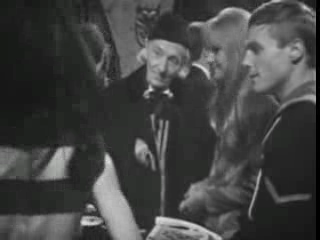 It is sad that the New Skool contemporary companions don't bring the lolz like this. Presumably you can't really take Ten to 'Inferno, the hottest nightspot in town' for comedy purposes, because he would just dance like a twat until you somehow managed to drag him home again. Boo.
7. POLLY'S FACE WHEN SHE IS POSSESSED. Sarcastic evil incarnate.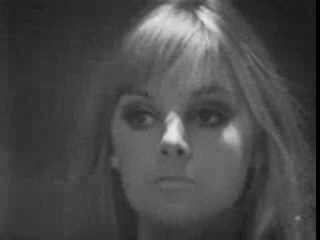 8. POLLY'S FACE WHEN SHE ISN'T POSSESSED.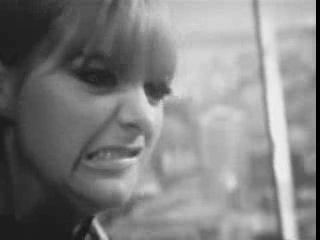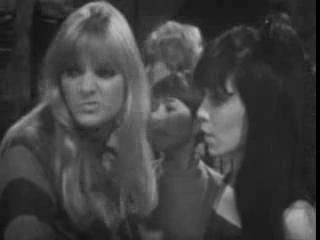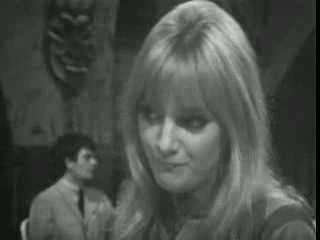 'Any time you want a little brightness in your life, come to Pol.' OK! She's lovely.
9. BEN'S FACE, ALL THE TIME, AND HIS HAT, AND HIS LOVELY TROUSERS. 'I'm no deb's delight!' he declares. Not in that outfit, dear, no.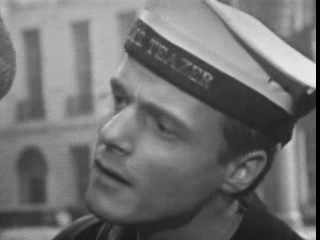 Yes, he is on the crew of the HMS Teazer. You really couldn't make this up. (Expect me to return to the subject of Ben soon. Those cheekbones are awfully familiar...)
10. POLLY AND BEN! Because, suggestive hat aside, they are completely hilarious together. And mostly they are burninated, so we must rejoice over the parts where they aren't.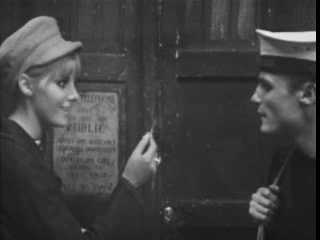 I rest my case.